Maggie Gyllenhaal featuring the Bembo credenza
Maggie Gyllenhaal - Academy Award nominated filmmaker, actress, and devoted mother.
ORIOR
What city or cities has influenced and/or inspired you the most? What specifically is it about these cities that so influences or inspires you?
Maggie Gyllenhaal
It's funny I was just talking about Copenhagen the other day with my husband. I have only been there once but I really loved it. We were there at the very end of summer, when it was starting to get a little cool, we were there with our kids. I thought the light was incredible. I thought, just the kind of vibe. I've been to cities before where I can't find anything that feels human and new and unusual -- like everything sort of feels corporate. Sometimes when I am working somewhere I'll say 'where can I really feel the city?', 'wheres'a good place to go walk and check out small shops and cafes?', and people will tell me somewhere and I'll go there and I'll think 'no no, this is dead.'
But in Copenhagen it was very easy to find. I'd turn a corner and go 'oh woah, this is interesting.' I loved the food, I loved the parks. The food also, I really loved the food. I travel for food and build my day around where I'm going to eat and what I'm going to eat, even in New York, but especially when I am traveling.
I've always loved Italy. My film has a lot of Italian and is based on an Italian writer, I was married in Italy, I found out I was pregnant with my second daughter in Italy. I have some sort of pull towards Italy and I have been all over. My film came out in Venice. I don't know, I have some kind of cosmic connection to Italy.
I love London I feel inspired by it, and I've worked a lot there. I have a lot of friends in London. I think London is a combination because it's such a big city. There's places that are corporate and have a kind of deadness to them and then there are parts of London that are so full of life. I do love that.
I was just in Big Sur, which is a place I've touched on all through my life at different times. That's an amazing place. You go south or north in either direction in a couple of hours in the car and it's like totally different. It just feels really special.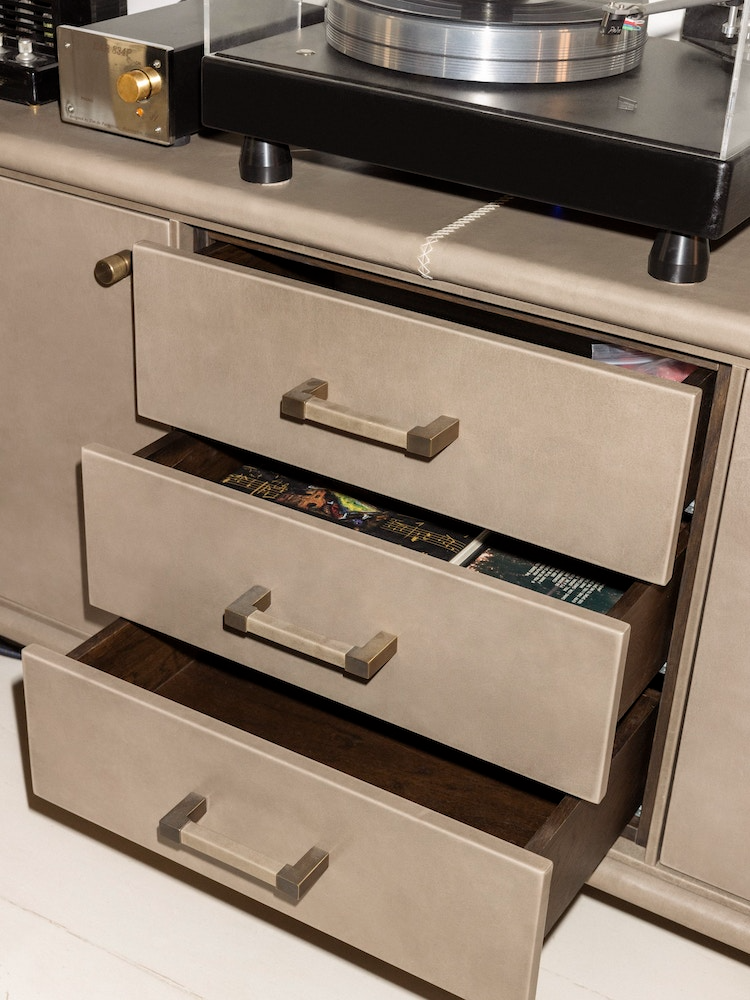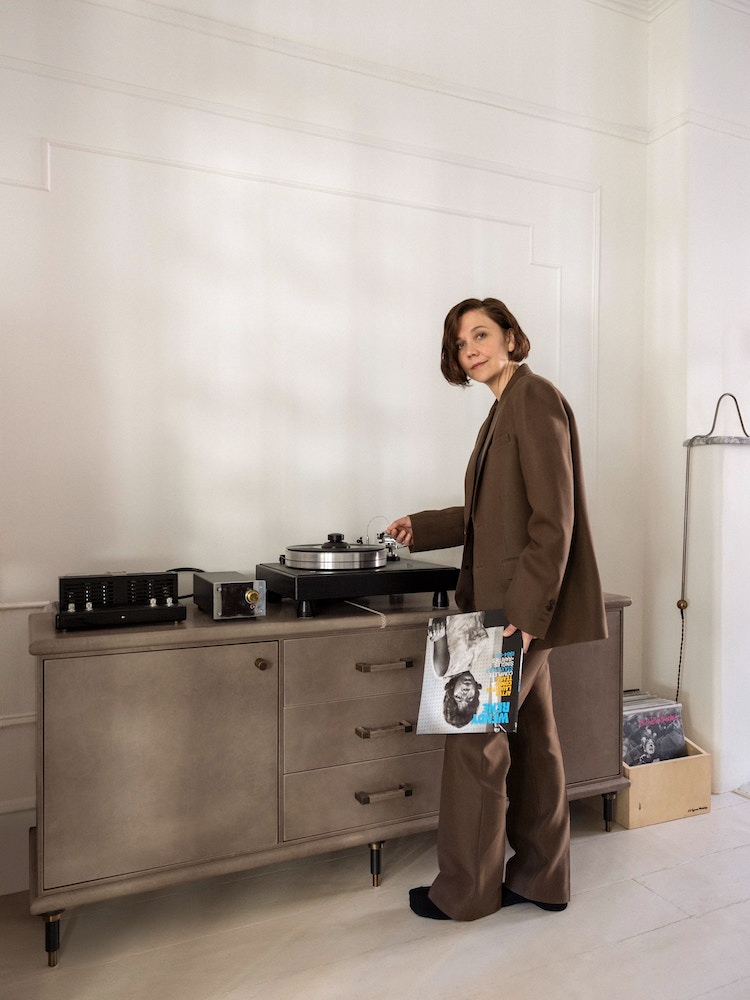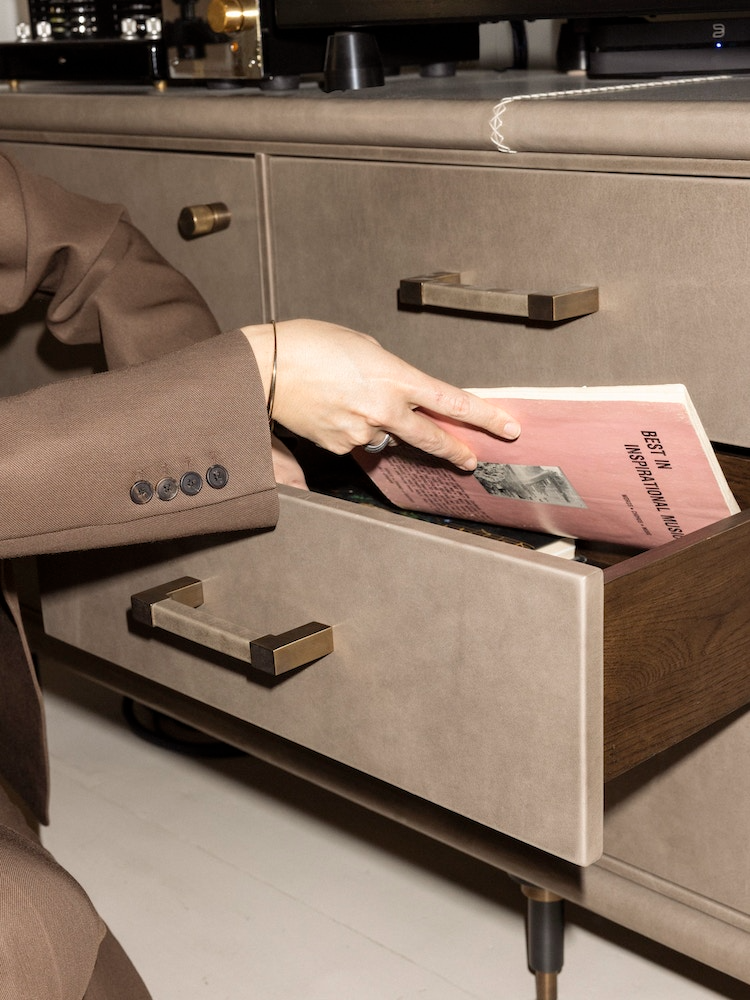 "I definitely make space in my life for my work, and not just the actual time of doing it - acting or writing or directing. But the time around it, to think, which I think is a huge part of being able to create something interesting."
ORIOR
Who lives with you (including pets)?
MAGGIE GYLLENHAAL
My husband and my two daughters and we have a cat and a dog. My dog's name is Babette and my cat is Dinah. Like "someone's in the kitchen with Dinah," and also Dinah is Alice in Wonderland's cat.
ORIOR
Do you live with any family heirlooms?
MAGGIE GYLLENHAAL
I have a couple of mixing bowls that belonged to my Russian Jewish great grandmother. I have my great aunt, who has now died, I have her diploma from Colombia Law School, she was in the first class that accepted women. I have her fur coat, too. Neither Peter nor I come from stock that had a lot of valuable things a long time ago, you know? They are more personally valuable.
Orior is an Irish brand that was founded in 1979. We continue to use locally sourced woods and stones from various areas in Ireland.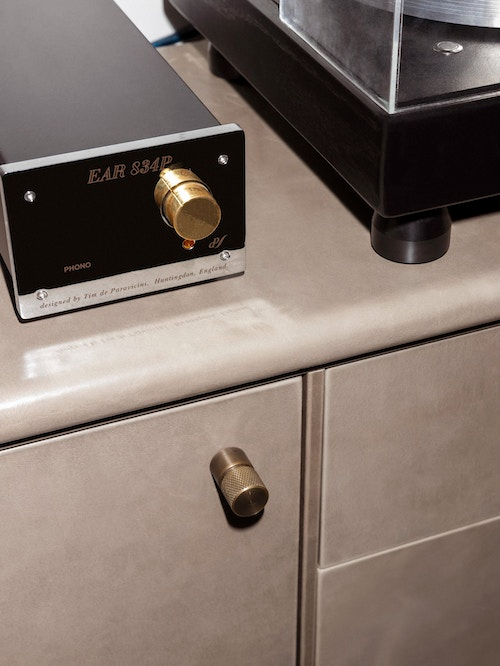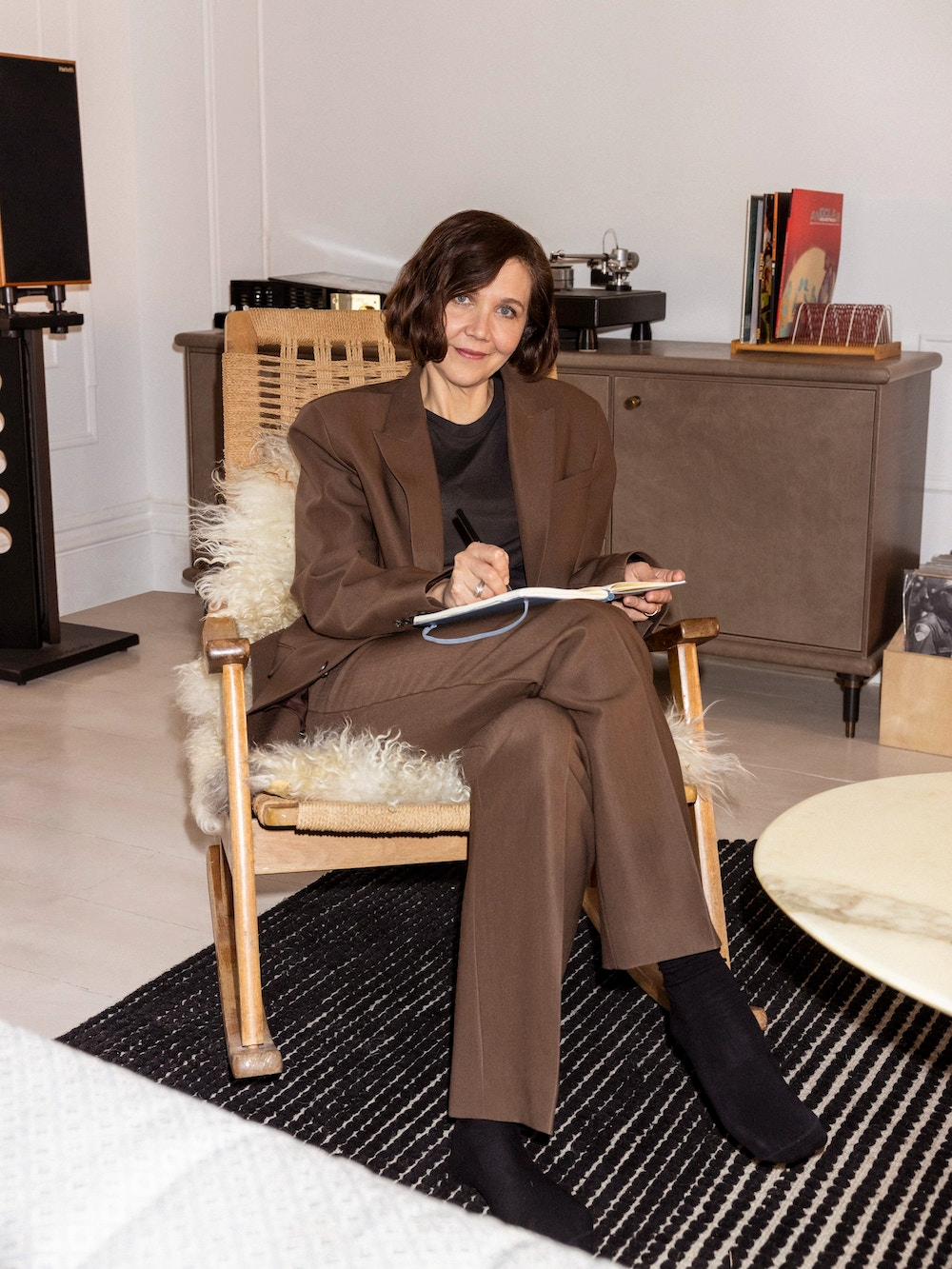 ORIOR
It took over 70 hours to make your Bembo credenza, often by someone who has been with the company since its early days.
MAGGIE GYLLENHAAL
Wow? Over 70 hours? I didn't know that. It feels so beautiful and human and gorgeous in that way that something that is carefully, thoughtfully made is constructed. Even the color, it's an un-nameable color. I guess it's in the family of grey but it's also so many other colors. It's really gorgeous.
ORIOR
What is the importance of making things by hand?
MAGGIE GYLLENHAAL
It feels human. It feels like it has a heartbeat, as opposed to something that's been churned out by a factory. There's value in things being churned out of a factory in that they can be made more cheaply and are accessible to more people. But there is also value in something carefully made. Like you say, that's a piece of furniture that will be handed down, that's a piece of furniture that will live with us for a very very long time.
ORIOR
Do you make anything by hand?
MAGGIE GYLLENHAAL
I do cook, and I cook pretty well. My brother actually is an inspired and talented cook. He really is, he is gifted. I cook well, I cook thoughtfully. It's funny. In the city and certainly when I'm working I cook a lot less. But I take it seriously. I read cookbooks and I practice and I find when I make something for the first time often it needs to be improved on. That's the first time, let's try it again.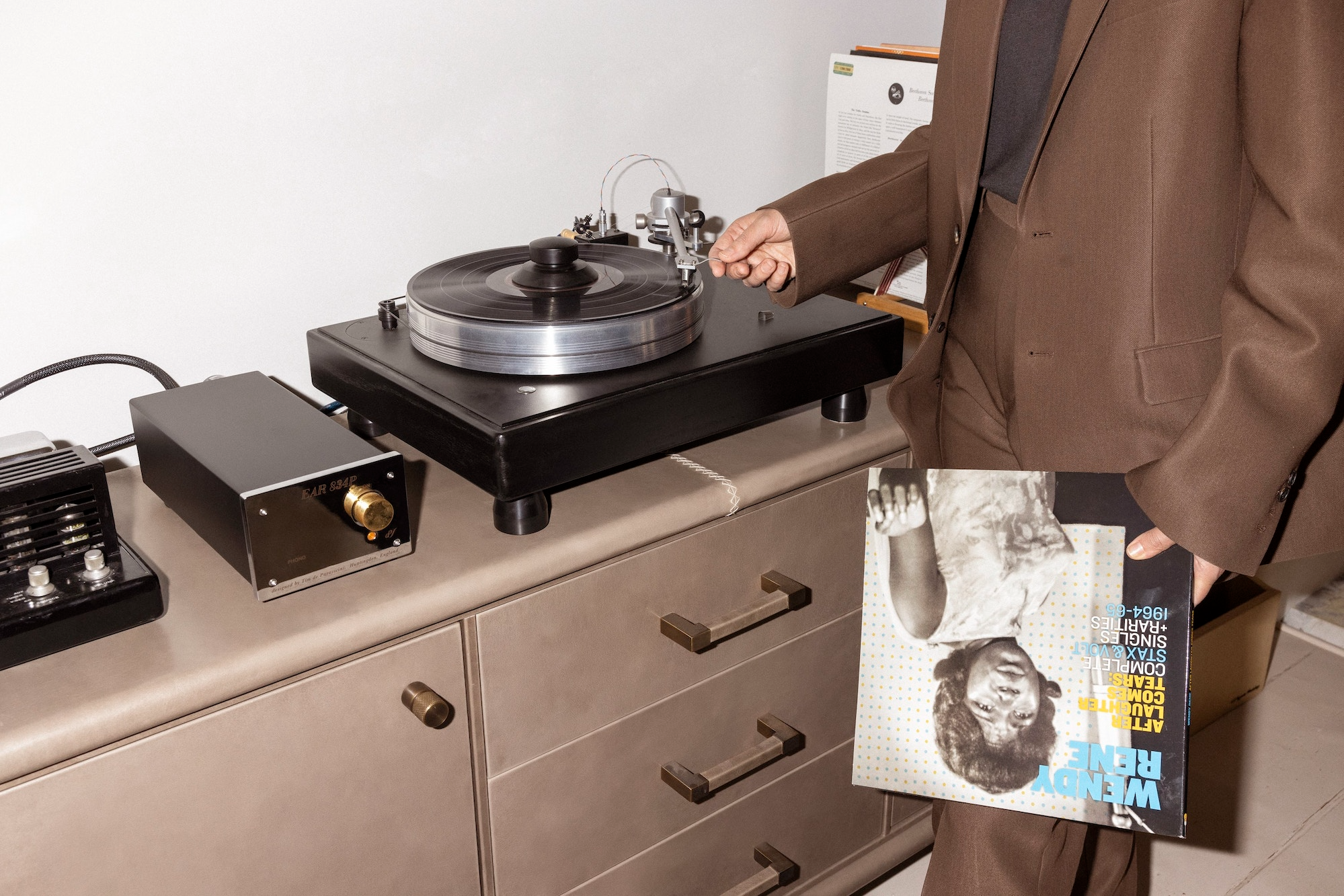 ORIOR
What things/activities and people in your life do you dedicate this type of time to?
MAGGIE GYLLENHAAL
I definitely make space in my life for my work, and not just the actual time of doing it - acting or writing or directing. But the time around it, to think, which I think is a huge part of being able to create something interesting. And then I would say, because of the time in my life, really, most of the rest of my time goes toward taking care of my family. My kids and my husband. Not that my husband needs to be taken care of but needs to be thought about and cared about. But my children really do need to be taken care of, and that takes a lot of time, to keep up with everything even though they're not babies anymore. There's haircuts and dentist appointments and new shoes and homework and also just being together and keeping up with exactly who they are at each moment.
ORIOR
Give us three reasons you chose the Bembo Credenza? What about it appealed?
MAGGIE GYLLENHAAL
I do have a designer -- Olivia Sammons from Wherewithal -- who is so brilliant and wonderful who is also my dear dear friend, who introduced me to Orior. All of their work is so beautiful. This was both beautiful and served a purpose for us, we have our record player on it, and there's only really two pieces of furniture in our living room right now - a big beautiful sofa and that.
ORIOR
Was there a runner-up?
MAGGIE GYLLENHAAL
Their shop used to be really hidden on some tiny little street in TriBeCa, and when we were working on our house here we were staying at my Mom's apartment in TriBeCa. I was walking around one day and I was like, oh, this is the place where I got our credenza. And they had such beautiful stuff. They have the Artic Wardrobe. I saw it before the pandemic and thought it was so beautiful. I actually think all of their stuff is gorgeous.
ORIOR
How would you describe your piece's "attitude and personality?"
MAGGIE GYLLENHAAL
It's intelligent, calm, surprising and with beautiful color. Like an elephant.